| | | |
| --- | --- | --- |
| Enhancing India's Competitiveness | | Can't see images? Click here… |
Note from the President and CEO
Dear Colleagues,

The India Council on Competitiveness is all geared up to host the India's National Competitiveness Forum (NCF) and Porter Prize event on September 25, 2015. The event is being co-designed by Vivekananda International Foundation, Mint, US Council on Competitiveness, India Council on Competitiveness & Institute for Competitiveness. 

The forum is a discussion platform, which is aimed to set the agenda for India's growth and competitiveness by engaging top leaders, renowned thinkers and government leaders. The event towards the evening looks at honouring the best of firms in the country and unveil the winners of the Porter Prize 2015. The award would look at recognising the best of Indian enterprises while assessing them on a robust framework.

We are bringing a fairly exciting agenda for integration, sharing knowledge and highlighting strategic issues through deliberations. Some of the speakers are Shri Jayant Sinha (Minister of State for Finance, Government of India), Ravi Venkatesan, Michael E. Porter, Mark Esposito, Ajay Malshe et al.

The event is scheduled for September 25, 2015, at The Leela, Ambience Island, Gurgaonbetween 8:30 AM and 10:00 PM. We would request you to mark your calendars and confirm your participation. The list of speakers is available at http://compete.org.in/speakers-2015/

To register kindly click on http://www.porterprize.in/register/

To support or partner with the forum contact Neera Vohra at neera.vohra@competitiveness.in.

We welcome you to become a member of the India Council and actively participate in the ongoing debates and discussions. To explore the memberships details, either write to me or visit the following link: http://compete.org.in/membership/

Regards

Amit Kapoor
President and CEO
India Council on Competitiveness
Did you take the dogs out for a walk
All of us know that dogs need enough space to run around, get exercise and feel happy. People who do not have space in the cities feel guilty…..more.
FM Players slug it out on day one of Phase 3 auction
The auction for private FM radio Phase III began on Monday. With the high court clearing the way for the Sun Group to participate in the e-auction…..more
Here's Why we need an open data portal for Indian Cities
Cities are the building blocks of any country. They are the cradles of creativity and innovation and drive regional prosperity. City growth is driven by….more.
Developing Simple solutions for paving road and providing water in India 
In a laboratory deep in the heart of the UBC campus, a group of researchers are breaking seemingly normal concrete blocks with high-tech equipment, pulling, twisting and dropping them, again and again…...more
Understanding China: Insights from Henry's Paulson's book- Dealing with China
Ever since India embarked on the path of economic liberalization, we have been in awe of China and keen to emulate its impressive growth. Comparisons between India and China are common…more.
A Bill to Weaken IIM's
Ever since the NDA government came to power, it has given single-minded attention to the HRD Ministry to review working of nearly every institution worth its name….more.
Going Digital can help SME's flourish
In a bid to empower small and medium-sized enterprises (SMEs) in the country, logistics giant DHL in association with Zee Business, has offered a platform to the industries to interact with experts and business leaders from various functional areas……more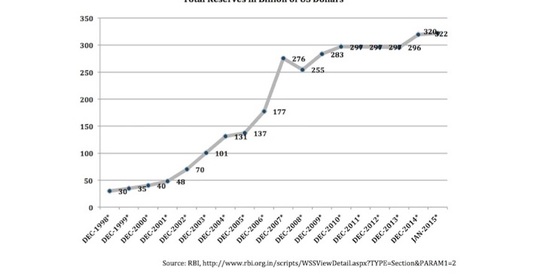 India's increasing foreign exchange reservesIndia in 1991 witnessed a balance of payment crises that triggered an opening up of the economy post-1991. After the crises several banking and capital sector reforms were also initiated and post-1997 Asian crises….more
Members of the India Council on Competitiveness